Pamper yourself today.

Look

Young,

Feel

Young,

Act

with the Young!
Applying Tropics Minerals for the Skin
By applying Tropics Minerals for the Skin, you can fully enjoy the benefits of bathing in the sea without having to go far from your home! Rejuvenate your skin and help prevent dead skin from accumulating for a fresher, healthier and younger looking skin!
Scrub the body and or face in circular motions and rinse out the excess salt grains on the skin with water. Your skin will feel soft, smooth and moisturized.
Remember to only use your fingers in scooping out the salt scrub if you intend to consume all the contents at once to avoid spoilage.
Post-exercise spa is very beneficial to the body - not only does it help you relax, but it is more effective to cleanse and expoliate the body, as your pores have opened, thus making your spa experience even better.

After cleansing the face and or body, you can apply a few drops of Tropics Mineral Skin Bath or pour a few drops in your bath to soothe and enrich your skin with natural balanced.
Soak feet for at least 10 to 15 minutes in a basin of warm water and a tablespoon of Tropics Bath and Foot Soak for foot spa, or 3 tablespoon in a bath tub of warm water for a bath soak.
Tropics Bath and Foot Soak will leave you feeling clean, relaxed and rejuvenated.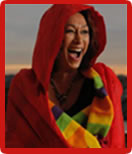 The fastest way to produce the sebum oil is through a steam bath. In the absence of a steam bath, use a warm blanket and cover your whole body. Keep body blanket wrapped until you produce more sweat all over your body.
Rinse with cold or warm water. No need to use soap in order not to remove the protective film produced by sweat and sebum oil.